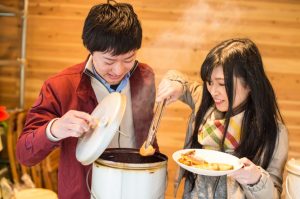 How would you like to make your own original souvenir by smoking seafood caught in the Tango area?
A staff member will be there to instruct participants (oral instruction available in Japanese only) at all times so no experience is required and you don`t need to bring anything with you.
Participation Fee:  Adults: 2,000 Yen(Junior High School Age and Older), Children: Same as Adult Fee (Elementary School Age)
Available Season: Year Round (Except During Golden Week and July-September)
Optional Times: Takes a total of 1 hr. 30 min.
◆     10:00  Check-in @ Amanohashidate Activity Center
11:30  Finish
◆     13:00  Check-in @ Amanohashidate Activity Center
14:30  Finish
◆     15:30  Check-in @ Amanohashidate Activity Center
17:00 Finish
Caution:
・Seafood types may vary by season and availability
・Participants` clothes may smell smoky at the conclusion of the tour
Payment-method: Pay at Amanohashidate Activity Center
Costs Included in the Participation Fee:
・Food supplies, Instruction fee, Cost of using the smoking machine, Take home bag cost(air-tight bags)
Cancelation Policy:
2-5 Days in Advance:You Pay 30%
 Day Before : You Pay 40%
Day Of: You Pay 50%
Not Showing up without Canceling: You Pay 100%
Maximum Possible #of Participants: 5, Minimum: 1
Inquiries& Reservations: Amanohashidate Activity Center
TEL:090-9047-5896(Hours:9:00 am ~ 6:00 pm)