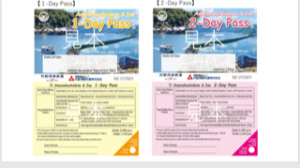 We have begun selling "Kyoto by the Sea-Amanohashidate & Ine 1 Day/ 2 Day Passes" for overseas tourists! The passes can be used on the Kyoto Tango Railway and Ine Bay Boat Tour, as well as other transportation to help visitors fully enjoy sightseeing in the Amanohashidate area.  The passes will be available in three languages: English, Chinese (Traditional), and Korean. Sale of the English version will proceed that of the Chinese (Traditional) and Korean.
Available Starting: Friday February 22nd, 2019 ※At first, English version only
Price: 1-Day Pass 3,500 Yen(Children 1,750 Yen), 2-Day Pass 4,500 Yen(Children 2,250 Yen)
Pass Usage:
・Unlimited use of non-reserved seats on local, rapid, and limited express trains (all Tantetsu lines)、
・Tango Kairiku Kotsu (Tankai) Amanohashidate Sightseeing Boat、Amanohashidate Kasamatsu Park Cable Car and Lift, Ine Bay Boar Tour, Miyazu Station~Ine Local Buses ※Excludes Highway and Community Buses
Available Discounts:
*Please show your pass at associated locations to get the following discounts.
・Nariaiji Mountain Bus Adults 400 Yen(Normal Price: 700 Yen)
・Bicycle Rental(Amanohashidate Area) 200 Yen(Normal Price: 400 Yen)
Refund Policy:
Refunds will only be offered for unused ("Date of Use" unprinted) passes during the valid period. A processing fee of 220 yen is also required to process a refund.
*Passes are considered valid for a period of one month after the date of purchase.
This Service is Offered By: Kyoto by the Sea DMO, WILLER TRA INS Co.
Inquiries: WILLER TRAINS Co. TEL 0772 -25 -2323 (Weekdays 9 am -6 pm)