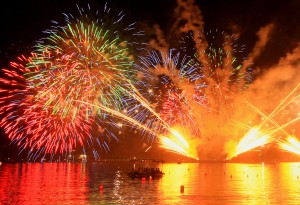 Every year it is getting popular our very traditional "Miyazu toro nagashi&Fire works festival".
In this festival, you will see very traditional "Toro nagashi"="Floating Lanterns" which is very beautiful contrast with floating lanterns in the sea. And after a while, the 3000 fireworks will bloom in the sky. It is very dynamic& dramatic. Summer will not end without this event. So why don't you join us with this special event on the day! You will be surely love this beautiful art.
☆Date: Friday, 16th Aug
☆Place: Shimasaki park (※Access from Miyazu station will be 10mins by walk)
☆Time: ◎Toro nagashi( Floating Lanterns) starts from 7:00p.m.
◎Fireworks festival starts from 7:30p.m. ~finish 8:30p.m.
※On the day, before and after the festival will be crowded. Please make sure you get the information on the way back.