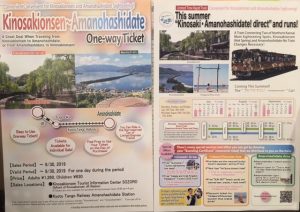 Special version of extra train has been started today,13th in Jul. This train connect between Kinosaki onsen- Amanohashidate direct! This train called "Umiyama musubi" which means "Connecting Sea and Mountain".  The design concept of this train is "treasure box" which  includes meets great scenary, friendship or good meeting from your own travel. This is quite beautiful design gold colour decoration in black. Hope you check this newly train and feel connect people and land, Umi&Yama(Beautiful Sea& Mountain)!
☆This train run only on weekends between 13th in Jul~29th in Sep. (Except 10th, 11th, 12th, 17th&18th in Aug)
☆If you take this train you get memorial ticket, free guide by train staff on your way, you get some free tasting of Sake,  you get some coupon at some sightseeing spot in Amanohashidate, or in Kinosaki onsen area some transportation fee such as Tajimawaru sightseeing pass is free.
☆You can buy this ticket either at "Kinosakionsen Tourist Information Center SOZORO" or "Kyoto Tango Railway Amanohashidate Station" .
☆Price: Adults 1,260JPY, Children 630JPY   ※ All seats are non-reserved seats
☆Time table: Kinosaki onsen 9:52dep~Amanohashidate 11:17arr
Amanohashidate 13:42dep~Kinosaki onsen 15:22arr
※ But if you have JR Wide Area Pass, Kansai Hiroshima Area Pass or Kansai Hokuriku Area pass, you can get on this train with your pass, so no need to buy extra ticket. For further information you can ask staff at the station.