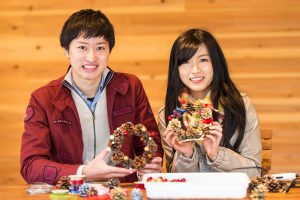 As a special time offer available till Christmas, you can make Christmas wreaths out of Amanohashidate grown pine cones.  You can decorate the wreath however you want.  Feel free to make your wreath as unique and original as possible!
If there`s an opening, reservations can be made the day of (You don`t necessarily have to make a reservation in advance although it is better to do so).
Participation Fee:  Adults: 2,000 Yen(Junior High School Age and Older), Children: Same as Adult Fee (Elementary School Age)
Available Times: Takes a total of 1 hr. 30 min.
◆     10:00  Check-in @ Amanohashidate Activity Center
11:30  Finish
◆     13:00  Check-in @ Amanohashidate Activity Center
14:30  Finish
◆     15:30  Check-in @ Amanohashidate Activity Center
17:00 Finish
Payment-method: Pay at Amanohashidate Activity Center
Costs Included in the Participation Fee:
・Supplies & Instruction fee
Cancelation Policy:
2-5 Days in Advance:You Pay 30%
 Day Before : You Pay 40%
 Day Of: You Pay 50%
 Not Showing up without Canceling: You Pay 100%
Children: All Elementary school students must be accompanied by an adult
Maximum Possible #of Participants: 5, Minimum: 1 (But the tour will only be held if there are 2 or more total applicants)
For more information, please contact Amanohashidate Activity Center: Tel 090-9047-5896