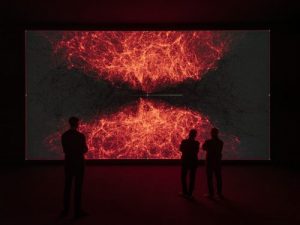 Under the theme of "Between reality and fantasy", it will be produced in a fantastic world by digital art using light, images and sound.
The audiovisual work "data-verse 1", which draws the viewer into the vast world of data, expresses the process from micro to human level and then to macro in three ways.
Viewers are drawn into the vast world of data, both visually and audibly, into the daily flow of data of modern people.
By combining various elements such as sound, vision, materials, physical phenomena, and mathematical concepts in an integrated manner, it is the "extreme" and "infinite" world that explores the limits of human senses and digital technology.
..
Experience his work with the attitude of leaving it to the viewer's imagination, without limiting it in his own words.
Date: October 16(Friday)-November 3rd (Tuesday)

※Open only Friday, Saturday, Sunday &National holiday (Exceptionally opens on Nov 2nd (Monday))
Place:  Amanohashidate Shoutenkyo Square
Web:  alternative-kyoto.jp/digital/