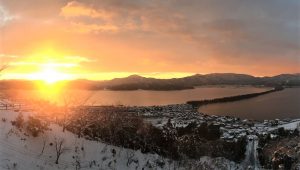 HATSU-HINODE at Amanohashidate area!
In Japan, many people go out to see HATSU-HINODEーthe first sunrise of the year.
It's a kind of tradition for us Japanese to see the sunrise on New Year's Day.
While HATSU-HINODE, people put their hands together and pray for a wish or a decision of that year.
There are many spots for HATSU-HINODE throughout Japan.
You can see HATSU-HINODE from Amanohashidate observatory!
One of the famous observatory at Amanohashidate area, Kasamatsu Park will open on January 1st from early in the morning for HATSU-HINODE.
※Kasamatsu Park …January 1st  AM6:30~PM16:30
 →For detail :Kasamatsu Park