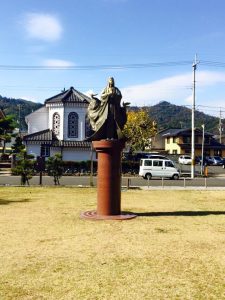 Attention Visitors Interested in Visiting Miyazu Catholic Church:
Since 120 years have passed since the construction of the cathedral, the building has slowly deteriorated overtime presently leaving it in a rather dangerous situation. The condition of the entrance to the cathedral is especially poor and it is currently in danger of collapsing.  Given the severity of the present situation, visitors are prohibited from entering the cathedral for the time being.
Members of the church are currently discussing the possibility of repairs and hope to be able to reopen the cathedral to the public as soon as possible.