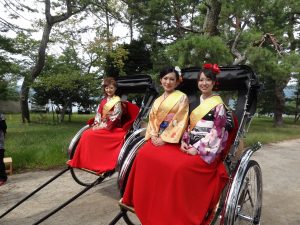 October 20th, Tango KIMONO Festival is going to be held at Amanohashidate!
Many people wearing various KIMONO will walk around at Amanohashidate area and so many events are going to be held, such as KIMONO fashion show, lottery, rikisha, sightseeing boat, Kimono parade through Amanohashidate!
Let's join and enjoy this event together!!
■How to join the event
Please wear KIMONO on that day and come to the reception.
No need to apply in advance.
■Reception
・Place  : Amanohashidate Hotel (1min walk from Amanohashidate train station)
・Reception Date & Time : October 20th, During 10:00~12:00
■Fee
For free
■Event brochure →https://www.tanko.or.jp/kimonomaturi/