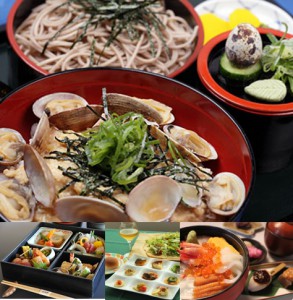 What is Meal Coupon? 
When people travel, everyone wants to try the local food. In Amanohashidate, there are many kinds of dish you have to try! Get this coupon at Amanohashidate Tourist Information Center (located in front of Amanohashidate Station) or Amanohashidate Tourist Information Station (located in Motoise Kono Shrine) and bring it to your favorite restaurant.
All you need to do is show your ticket! If you have this coupon, you can save up your money or get a privilege.
For more information, please check this out!! …Amanohashidate Meal Coupon
Attention!! This coupon is valid for 2days. Everyone has to order exactly the same dish as the picture below. Anyone CAN NOT change it.


Where to Buy? and Where to Eat?
MAP #1     MAP #2
Menu (1,000yen)
1000yen #1   1000yen #2  1000yen #3
Menu (1,500yen)
1500yen #1   1500yen #2
Menu (2,000yen)
2000yen