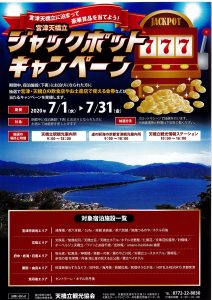 We've started "JACKPOT" campaigne from 1st of Jul. This campaigne is to promote the tourism around Amanohashidate. This long whole months in July.
If you ever have chance to visit here around Amanohashidate and decide to stay the hotel/guest house that is listed in this campaigne below, you get a chance to try "JACKPOT".
You might get some free coupon that you can use around Amanohashidate area/ some gifts related to Amanohashidate. So why don't you try this opportunity and get some extra fun!
How to apply to this campaigne…
1.You just need to book hotel/guest house which is listed below by your own. (This campaine is applied for 1st Jul~31st Jul.)
⇓
2. After you checked in the hotel, you get a "Lottery ticket" and go visit one of the place you can try "JACKPOT".
・Amanohashidate station informaion center 9:00-18:00
・Michinoeki Umino Kyoto Miyazu information center 9:00-8:00
・Fuchu Kanko Jyohou Station information center 10:00~16:00
⇓
3. If you beaten in Lottery, you get some gift, othewise you can also get some coupon you can use together along your stay in Amanohashidate! 🙂
《Membership Hotels& Guest House》
・Seikirou ・Charoku Honkan ・CoTo・Ryokan Takashimaya
・Charokubekkan ・Ryokan Tsurunoya ・Hotel Tango
・Monjyuso ・Ryokan Shogetsu ・Amanohashidateso
・Amanohashidate Hotel・Hotel Kitanoya・Jinpuso
・Monjuso Shourotei・Taikyorou・Auberge Amanohashidate
・Wine& Oyado Chitose・Genmyoan・amano-hashidate Yusai
・Sakamotoya ・Shoufusou・Shinpurou・Ryokan Ichinoya
・Satonoyado Kawajiri・Amanohashidate Youth Hostel
・Kurosakisou・Yokanoyado Hanashoubu
・Tango Umitohoshinomieruokakouen・Hashidate Bay hotel
・Ryouriminshuku Wasurenagusa・Tanakasou・Kaigetsurou
・Ryokan Mastukaze・Minshuku Yunagisou
・Hotel&Resorts Kyoto Miyazu・Centrale Hotel Kyotango