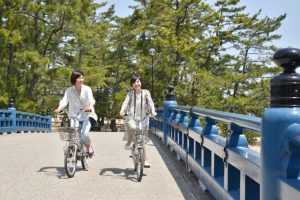 Miyazu(Town Area):Visitors can rent bikes at Miyazu roadside station, Michi no Eki "Umi no Kyoto Miyazu"
Amanohashidate:Bikes(both one person and two person bicycles) are available for rental on both the Monju and Fuchu sides of Amanohashidate (at the sightseeing boat piers: Amanohashidate pier(Monju) and Ichinomiya pier (Fuchu)).
Rental Fee: 400 yen for 2 hrs. An additional 200 yen will be charged for each additional hour.
The following bargain sets are also available:
Sightseeing Boat & Bicycle Set: 900 yen、Motor Boat & Bicycle Set: 1000 yen(Only for groups of 4 or more/Exclludes Golden Week and Obon Season)
*Prices may vary by location so be sure to check!
Ine:Visitors are welcome to use Ine Community Bicycles(Free).  The bikes can be borrowed for free at five different locations and returned to any of the same 5 locations.