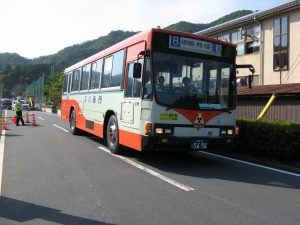 Start 1. Check the bus`s destination and board the bus from the back door.
*There are some buses with only one door.
When boarding, take a ticket from the ticket issuing machine (located just inside the back door).
*Sit properly keeping your head and hands inside the bus, away from the windows and doors.
When you hear the name of the bus stop you would like to get off at announced over the loud-speaker, please press the button to get off. (If no one presses the button when the bus stop name is announced, the bus will skip that stop and proceed to the next so be sure to press the button before arriving at your stop!)
*Please remain seated until the bus comes to a complete stop.
Check your fare by comparing the number on your ticket you received when boarding and the numbers on the fare chart at the front of the bus. Elementary school students are half price!
When getting off, please place your ticket and fare in the fare box located at the front of the bus (When exiting the bus, please use the front door). If you don`t have the exact change please use the change machine, also located at the front of the bus, before placing your fare and ticket in the fare box.
*You cannot get change after placing your fare in the fare box (exact change only)
*The change machine only accepts 1,000 yen bills, 500 yen coins, and 100 yen coins.  5,000 yen bills and larger cannot be used on the bus so please get change (1,000 yen bills or smaller) before getting on the bus.
Exit the bus from the front door. Be careful of bicycles and look both ways before getting off.
*Be sure to watch your step to prevent injuries and don`t rush getting off.
If you have any questions, please ask the bus driver.