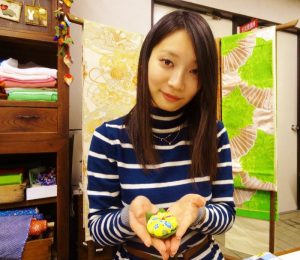 Make unique Tango Chirimen (silk crepe) souvenirs! All accessories can be made in approximately an hour so that even people with busy schedules can participate. Japanese tea and sweets are served at the end of the tour. An instructor will be present at all times so don't worry if you have no sewing experience. It`s not just for women! Men are welcome as well!
*Oral Instruction is available in Japanese only
※All applications will first be processed as requests. We will notify you if your request can be accepted or not within two days of receiving it. Your reservation is not final until you hear back from us.(In the event that you don`t hear back from us even after two days, please contact us to confirm your reservation status.【0772-22-8030・9:00~18:00】
Participation Fee:  Adults: 1,500 Yen(Junior High School Age and Older), Children: Same as Adult Fee (Elementary School Age)
Schedule: (Takes approx. 1 hr.)
Gather at Kasamatsu no Sato(112 Oogaki, Miyazu, Kyoto)
↓
Chirimen Accessory Making
↓
Japanese tea and sweets served at conclusion of tour
※Depending on the number of participants, the tour may take longer than 1 hr.
Available Times: 10:00 am、or 2:30 pm
Payment-method: Pay at Amanohashidate Activity Center
Costs Included in the Participation Fee:
・Materials, Instruction fee, Japanese tea and sweets
Cancelation Policy:
2-5 Days in Advance:You Pay 30%
 Day Before : You Pay 40%
 Day Of: You Pay 50%
 Not Showing up without Canceling: You Pay 100%
Maximum Possible Number of Participants: 6, Minimum: 1 (But the tour will only be held if there are 2 or more total applicants)
Tour Location: Kasamatsu no Sato(112 Oogaki, Miyazu, Kyoto)
You can choose from any of the 5 accessory options below: