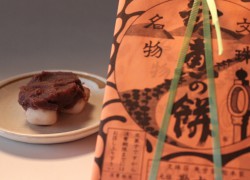 Sweets:
Chie no Mochi ("Wisdom Rice Cake")   White rice cake topped with azuki (red bean) paste.  There is a local legend stating that eating this rice cake makes you smart.  Chie no Mochi can be purchased at the tea houses in front of Chionji Temple (Monju Side).
Kuromame Senbei   Rice crackers made from Tango grown black beans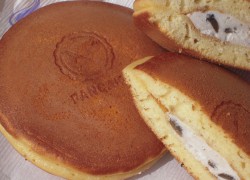 Amanohashidate Black Bean Pancake   Sweets pancakes filled with Tango grown black beans and cream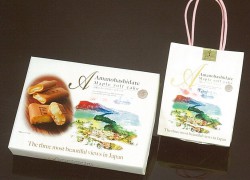 Amanohashidate Maple Cake

Hakurei Brewery Roll Cake

Hakurei Brewery Cheese Cake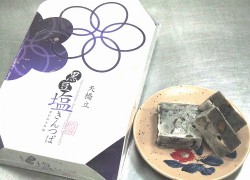 Black Bean Kintsuba   The traditional Japanese dessert, Kintsuba, made with black beans instead of azuki (red) beans.  This sweet is available for purchase at Matsui Bussan (Fuchu side)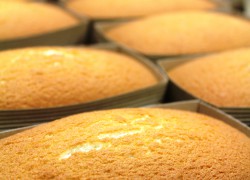 White Wine Cake   Produced by Amanohashidate Winery.
Food: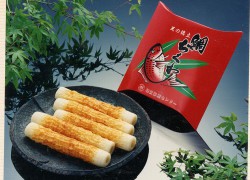 Chikuwa   Steamed fish paste made from sea bream.  Black Chikuwa is especially popular.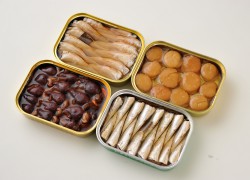 Oil Sardines   Produced by the Takenaka Canned Goods Co.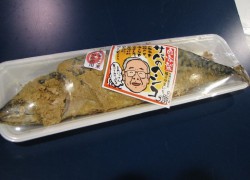 Mackerel Heshiko   Mackerel pickled in salt and rice bran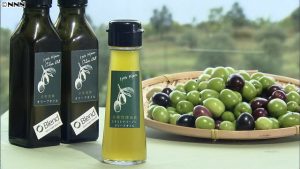 Miyazu Olive Oil   Olive oil made from Miyazu grown olives
Yura Mandarin Oranges   Mandarin oranges grown in the Yura area of Miyazu
Wine & Sake: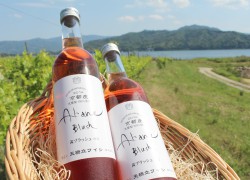 Amanohashidate Wine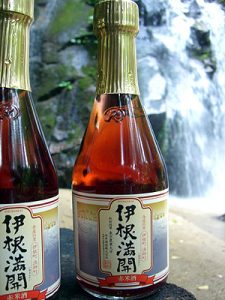 Ine Mankai Sake   Sake made in Ine well known for its sweet fruity flavor

Hakurei Sake
Traditional Crafts: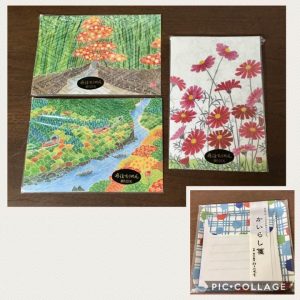 Chirimen (Silk crepe) Goods-Bath towels, purses, bags, pin cushions, key chains, charms, postcards, and other decorations are for sale at various local souvenir shops.
Character Merchandise: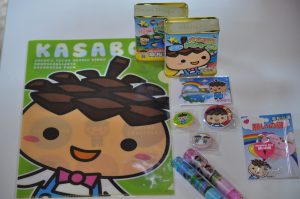 Kasabo Goods    Bags, t-shirts, pins, and stationary items are sold at the Kasamatsu Park souvenir shop.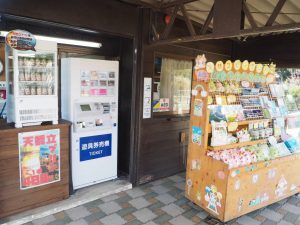 Ranchan & Byukun Goods   Stuffed animals, mugs, and other merchandise are available for sale at Amanohashidate Viewlan