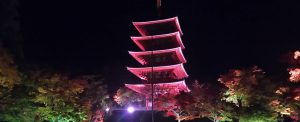 Nariai-ji temple, located north side of the Amanohashidate area is worth to visit in Norvember. The colored leaves and the lightened Nariaiji-Temple create a beautiful contrast!
And November 9th-10th, illumination event is going to be held at Nariai-ji temple! Let's enjoy this event and feel the autumn season at Amanohashidate!
Also we have lots of events during this period!
■Date and Time
November 9th – 10th
PM17:20- PM21:00
■Place
Nariai-ji Temple
■Access
ex) Start From Amanohashidate train station;
Take the sightseeing boat ※ (5min walk from Amanohashidate station)⇒get off at "Ichinomiya",
and take the cable car to Kasamatsu Park.
After get off the cable car, please take the shuttle bus to Nariai-ji temple
   ※During this event time, sightseeing bort, cable car and shuttle bus to Nariai-ji is for free!!
     ●Timetable of sightseeing bort 
        Amanohashidate→Ichinomiya ・・・17:00, 18:00, 19:00, 20:00
        Ichinomiya→Amanohashidate・・・18:40, 19:40, 21:30
      ●Timetable of shuttle bus to Nariai-ji Temple &Cable car
         Kasamatsu Park →Nariai-ji・・・17:20~20:20 (last bus)
         Nariaiji →Kasamatsu Park ・・・21:00(last bus)
■Events
●Night AJIKAN meditation at Nariaiji Temple
(Fee \500)  schedule : ①19:00~ ②20:00~
※each time, for the first 30 people in order of arrival
 ●Food stands
At Kasamatsu Park:  Hamburger, fries, beer, soft ice cream, curry, Udon etc.
At Nariaiji Temple: Crepes, Wine, Hot wine, Sandwitch, cofee etc.
 ●Live music at Kasamatsu Park
Date&Time:November 9th&10th, PM6:30~PM8:00
Classic, Band, Violin concert etc.

Event HP→http://www.amanohashidate.info/nariaiji/